This post was originally published on this site
Columbia, SC: Brotherhood of St. Moses the Black holds annual Ancient Christianity Conference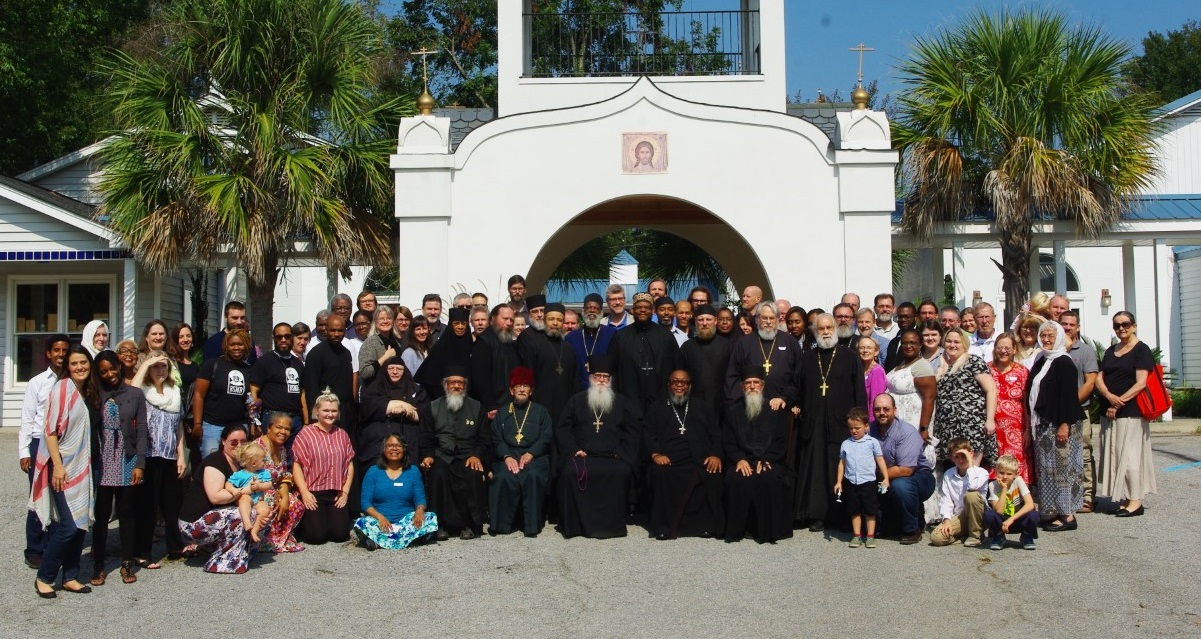 Holy Apostles Church, Columbia, SC, was the site of this year's Ancient Christianity Conference, sponsored by the Brotherhood of Saint Moses the Black October 5-7, 2018.
At the opening session, a message from His Beatitude, Metropolitan Tikhon was read, in which he encouraged attendees to continue reaching out to others by "the transfiguration that begins in the depths of our hearts." The complete text appears below.
The conference theme — "How good and pleasant it is for brethren to dwell together in unity"—was developed by the keynote speaker, Abbot Tryphon of the All-Merciful Saviour Monastery, Vashon Island, WA. In a series of presentations, he underscored the importance of being kind to all, especially those unable to help themselves, and shared his personal "journey to Orthodoxy."
At the conference's outset, Dr. Bobby Donaldson, the leader of the Civil Rights History and Research Center In Columbia, SC and curator for the Columbia 63 Project, offered an informative lecture which highlighted influential stories of the local Civil Rights Movement.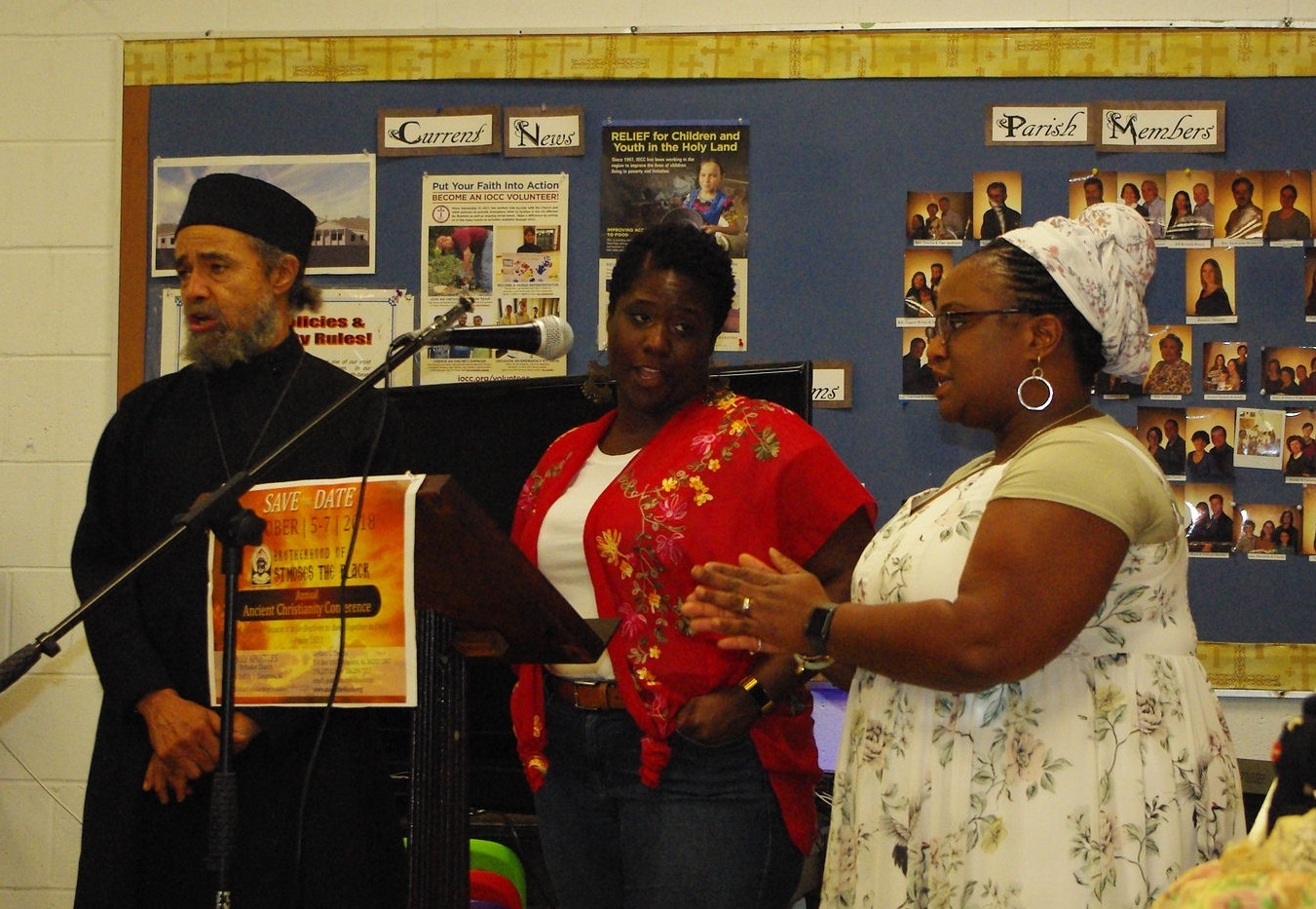 Archpriest Moses Berry, the Brotherhood's founder, spoke on the importance of listening to elders, while Carla Thomas, Brotherhood treasurer, related her experience in prison ministry and shared ways to engage those who often are forgotten or made to feel hopeless. Other speakers included Priests Justin Matthews, Turbo Qualls, and Jerome Sanderson; Hieromonk Alexii [Altschul]; Seminarian Anthony Davis; and Nun Katherine [Weston]. Cohosting the conference were Jonathan and Sabrina Vilord.
The Brotherhood's 2019 conference will be held in Atlanta, GA.
Videos of all conference presentations are accessible online, as is an exceptional photo gallery.
Message of His Beatitude, Metropolitan Tikhon to
the Participants in the 25th Annual Ancient Faith Conference
October 5, 2018
Dear Father Moses and Members of the Brotherhood of Saint Moses the Black,
Christ is in our midst!
Please accept my warmest greetings as you gather for the 25th annual Conference of the Brotherhood of Saint Moses the Black on the theme: "How Good and Pleasant It is for Brethren to Dwell Together in Unity." I pray that your conference will indeed make real this theme through the liturgical services, the inspiring speakers, and musical fellowship that you have planned.
With this letter, I am also honored to extend my primatial blessing to this important and worthy organization which takes as its mission "to equip Orthodox Christians for the ministry of racial reconciliation, and to share the Orthodox Christian faith with African-Americans and people of color." Although this two-fold mission might be perceived by some as "modern" and "social" in scope, it is, in fact, an ancient and spiritual ministry within the tradition of the Orthodox Church.
The very life of Saint Moses bears this out, for we are told that one day, the fathers at Scetis tested him by calling him before the council and saying: "Why does this black man come among us?" When he heard this, he kept silent. Later, the fathers asked him why he was not grieved, and Moses said: "I was grieved, but I kept silent." With this attitude, Saint Moses reminds and instructs all of us, Christians of all times and of all races, of the mystery of personhood rooted in the image of God.
Here is a man who spent his early life as a slave and then as a violent robber but then, through deep repentance and the grace of God, lived a life devoted to the love of Christ and the love of his neighbor – even in the depths of the desert. Just like his spiritual sister, Saint Mary of Egypt, the transformation of his heart was not achieved in a single moment, but rather involved a lifetime of struggle with his passions.
After a particularly violent struggle, his elder, Abba Isidore, reminded him that these temptations were permitted by God so that he would not boast of overcoming them by his own strength. And this is the circumstance in which most of us find ourselves: wandering in the wilderness of the world and of our own passions, yet longing for freedom and deliverance. Just as the Israelites of old cried unto the Lord in their afflictions, and He delivered them from their distress [Psalm 106:6], so each of us, like Moses the Prophet or Moses the Black, will not find consolation or relief until we turn to the Lord in hope and in prayer. This is what all the saints show us: that the mystery of the person is worked in the depths of our hearts even as we face the difficult circumstances – external and internal – of our own lives.
From being a violent robber who took other people's possessions away from them, Saint Moses became a humble monk who went out at night to fetch water from the distant well for all the older hermits who no longer had the strength to do so. It is only through such personal transformation that we can transform the broken society in which we live. And it is through organizations such as this Brotherhood that we as Orthodox Christians can collectively make an impact on society – not through political or social activism but through the transfiguration that begins in the depths of our hearts.
May our Lord Jesus Christ bless and strengthen you in this important ministry and witness on behalf of the Orthodox Church in America.
Sincerely yours in Christ,
+ Tikhon
Archbishop of Washington
Metropolitan of All America and Canada
Twin Cities, MN: FOCUS Minnesota unveils St. Luke's Mobile Medical Clinic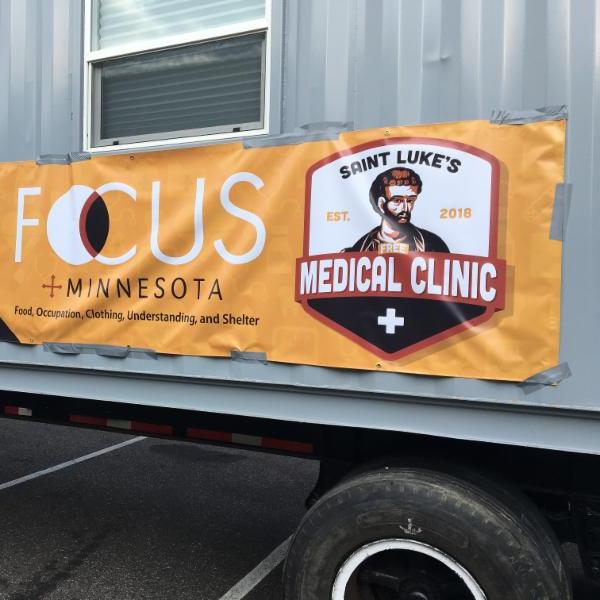 Attendees at FOCUS Minnesota's annual dinner recently held in Minneapolis, MN were excited to see the agency's mobile health clinic, which is designed to serve residents who otherwise would have limited access to and difficulty affording health care.
Saint Luke's Mobile Medical Clinic will enable FOCUS Minnesota to expand its mission as a refuge for those afflicted by poverty and homelessness by offering holistic human services to children, parents, and individuals in need of food, clothing, medical care, and access to other basic needs. The clinic also will offer free health care exams and referrals to patients in need.
While FOCUS Minnesota continues its search for a permanent ministry location, the agency has hardly been dormant during this transitional period. It continues its commitment to its weekly sandwich program, its partnership with SafeZone, and other ministries.
Follow FOCUS Minnesota's commitment to the Twin Cities online.
Rahway, NJ: New Jersey Deanery sponsors choir workshop with Dr. David Drillock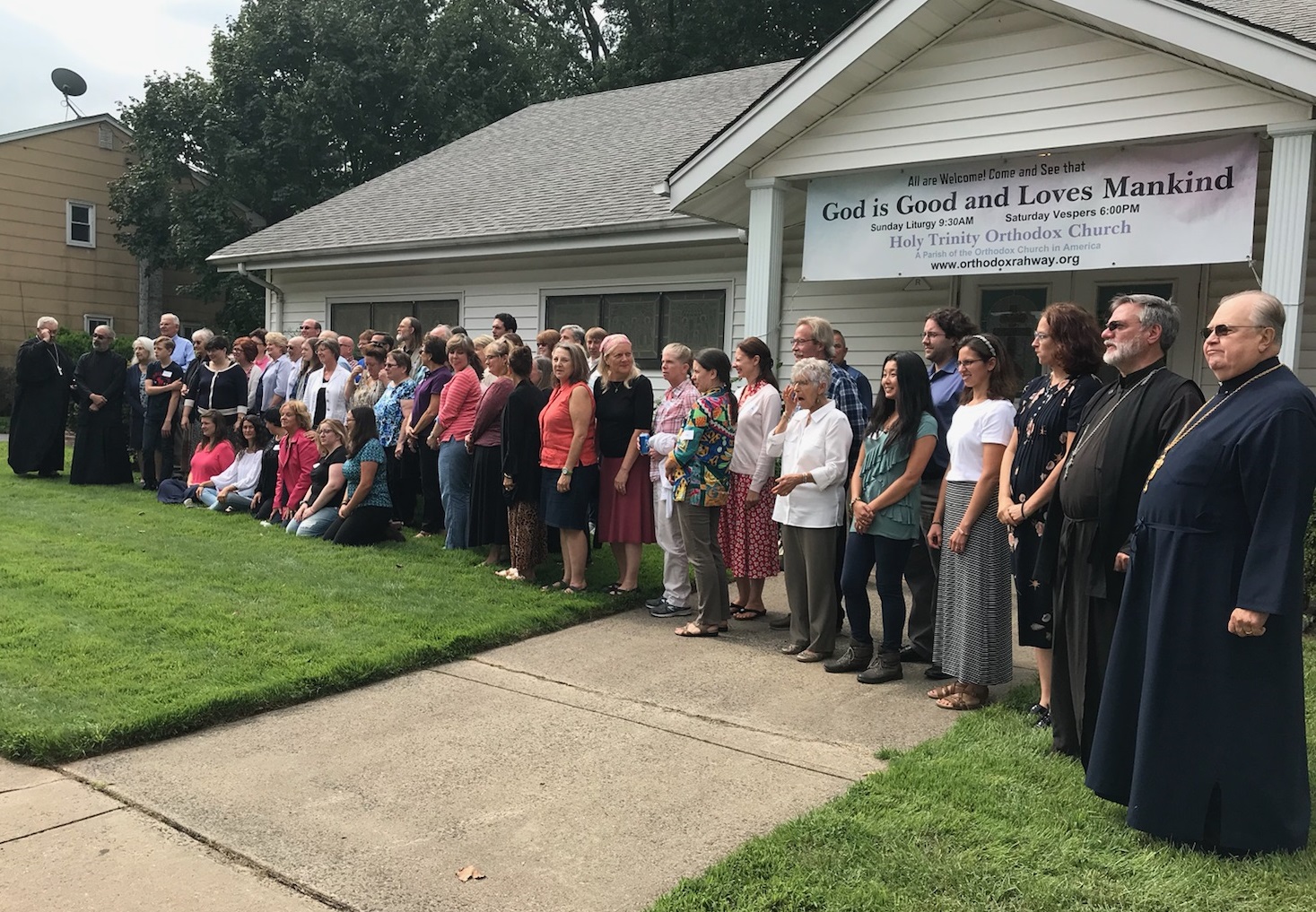 They came from near and far to learn from a master, Dr. David Drillock, who led a phenomenally successful choir workshop in mid-September 2018 at Holy Trinity Church, Rahway, NJ. Sponsored by the Commission on Liturgical Music of the Diocese of New York and New Jersey, the workshop attracted nearly 70 participants from Delaware to Ithaca and across jurisdictions to share in the joy of gaining a deeper understanding of liturgical music.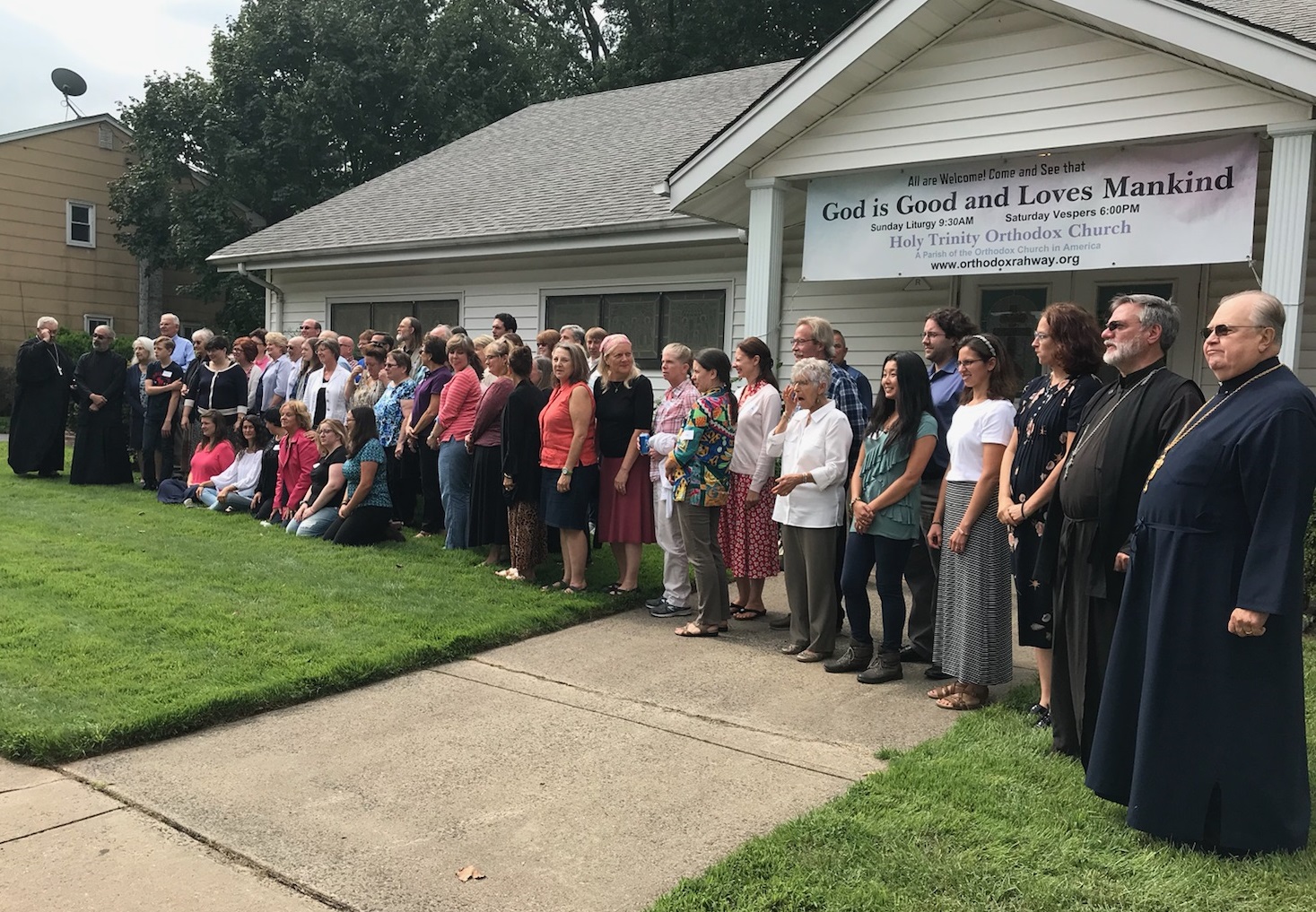 Dr. Drillock, who chairs the Orthodox Church in America's Department of Liturgical Music and Translations, brilliantly taught the basics—from giving pitches to establishing tempo and maintaining the joy and solemnity of liturgical worship. Participants expressed sincere gratitude to Dr. Drillock for sharing his knowledge and talents and the Commission on Liturgical Music for providing the resources to meet the great need to elevate our liturgical worship through music. A second workshop is being planned for Spring 2019.
Garden City, NY: Noted Russian Orthodox conductor to perform at Adelphi University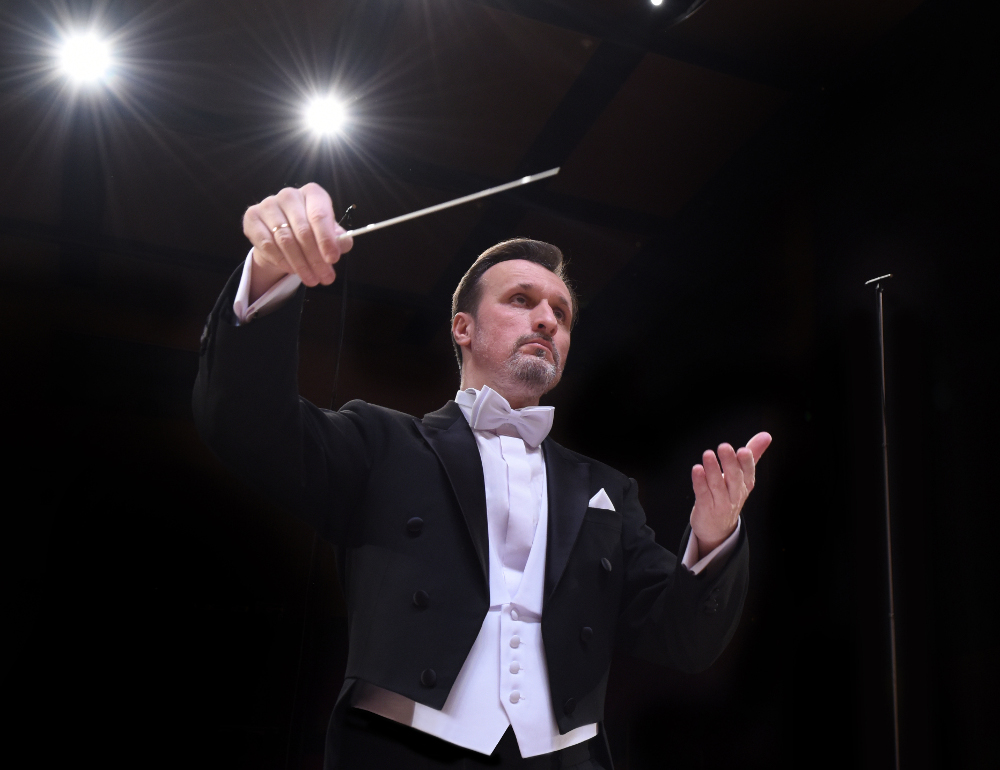 Vladimir Gorbik, widely known conductor of the Holy Trinity-Saint Sergius Lavra Representation Church, Moscow, Russia, will conduct a concert of film scores at Adelphi University on October 19, 2018. On the Clayton Westermann Stage at the University's Performing Arts Center, Maestro Gorbik will conduct the Capital Symphony Orchestra, which will provide the live underscoring of film excerpts while familiar scenes are projected on a screen. This is a beginning step to foster a new institutional relationship between Adelphi and the Moscow Conservatory, at which Gorbik is currently a faculty member. His goals include upholding standards held in common by both cultures: excellence in education and performance as well as their societal impact.
The program, titled "The Sounds of Cinema," incorporates eight pieces for string orchestra, revealing a variety of 20th century musical styles. Opening the concert will be the classic American work "Adagio for Strings" by Samuel Barber, composed in 1936 and first performed for a New York radio broadcast under the direction of Arturo Toscanini. The accompanying film will be a premiere by an Adelphi student on environmental responsibility. As a dramatic conclusion, Bernard Herman's Psycho Suite will allow the audience to re-experience one of the most memorable and thrilling excerpts in movie history directed by none other than Alfred Hitchcock.
The performance also will feature the world premiere "Pulse," penned by Adelphi's very own Nicholas Reeves, Choir Director at the OCA's Holy Trinity Church, East Meadow, NY. In fact, this collaboration between Dr. Reeves and Maestro Gorbik is the basis for creating the New York branch of the Capital Symphony Orchestra.
"Music as positive force in western culture provides a needed societal cohesiveness in the fractious and tribal political realities of the current day," Dr. Reeves said. "Vladimir Gorbik's professional credo is to unite the creative efforts of musicians from different continents in order to exchange cultural values between East and West. He has made great efforts to build and strengthen international cooperation, understanding and friendship in our turbulent times.
Additional information and tickets are available on the Adelphi University website.